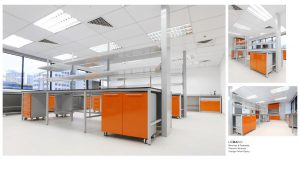 An ISO 9001 & 18001 company. A company built on passion and people. We are committed to delivering a leading customer experience.
We are an engineering and construction solution provider for technology companies. We offer full spectrum support to industrial, commercial and governmental clients across multiple markets; specialising in scientific construction. We are also an established manufacturer.
We manufacture laboratory infrastructure equipment and install ; ASHRAE 110-95 & EN14175 tested and certified Fume Hoods, Laminar Flow Cabinets, Biological Safety Cabinets, NFPA30 tested Safety Storage Cabinets, AdvancelabPro® Steel Casework, Gas Distribution Systems, Plastic Fabrication services, Stainless Steel fabrication, Exhaust Ducting in PVC, PPS, SS304 and SS316
Our fundamental business strategy is developing long term relationships with clients and providing a complete turnkey solution.
Source : Advancelab Sdn Bhd