Come visit DKSH Technology at Booth 4AB09!
DKSH Technology will be featuring Lauda products this year in LabAsia 2019! Come find us at Booth 4AB09 to meet our specialists and check out our demo units featured.
From Automotive to R&D: You´ll find Lauda constant temperature equipment everywhere. For over 60 years Lauda, with its headquarters in Germany and multiple locations worldwide, has built a reputation for producing high quality temperature control equipment for almost every need. Lauda meets heating and cooling requirements across multiple segments such as automotive, aerospace, pharmaceutical, biopharmaceutical, life sciences, food & beverage and beyond.
Lauda temperature equipment is a reliable partner for applications such as reactor temperature control, process engineering or sample preparation. Constant temperature equipment like the Lauda PRO cooling circulation thermostats offer a cooling capacity of 1.5 kW and temperatures down to -90°C.
Lauda experts will work closely with their customers to meet their individual needs and offer customised solutions for their application. The German family-owned company prides itself on having the necessary expertise to assist the customer in all applications.
Click the link below for more information on Lauda's offerings!
Visit: https://dksh.com/my-en/home/industries/technology/product-search?sup=lauda&q=none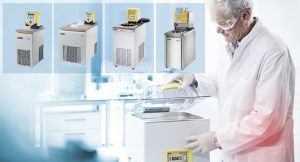 Source : DKSH Technology Sdn Bhd