Automatic cell washing system – ROTOLAVIT II
Rotolavit II – Automatic Cell Washing System for serological testing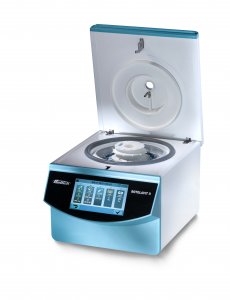 Cat. No.: 1008-00
The ROTOLAVIT II cell washing system facilitates routine tasks in transfusion centre laboratories. It was developed for crossmatching, as well as antibody search and differentiation, and for cell washing in TB tests. By automating the routine processes, not only does it reduce the amount of manual work required, but also ensure repeatability by reducing human error. The centrifuge has a small footprint and delivers  reliable results at low costs for consumables.
Although made for cell washing in blood centers, hospitals for serologic evaluation, the ROTOLAVIT II is flexible enough to be used for cell washing procedures in oncologic or immunologic labs. Apart from spinning tubes like a standard centrifuge, it can also be used for making cell suspensions. The end user can combine the settings in a very flexible manner.
The ROTOLAVIT II can spin up to 24 tubes in one spin, with maximum Revolution per minute (RPM) of 3500 or 1438 relative centrifugal force (RCF). It only requires little effort to clean and maintain the equipment, with the whole rotor easily removed without the use of tools.
The new and improved feature of Rotolavit II is the operations and control. Rotolavit II can save up to 20 different programs for easy switching between frequently used programs. Programming the centrifuge is made easier with the coloured touch screen display. The screen can display more information and programs can be set by just pressing a few keys. The users can set the saline volume, agitation parameters, decanting
speed and many other parameters to suit their individual requirements. In a glance, the user can also get useful information such as the sequence and cycle number the equipment is currently on. 
Overall, the ROTOLAVIT II is a simple and user-friendly centrifuge with great customizability. The touch screen display allows users to easily set parameters to their requirements. The ROTOLAVIT II is suitable for many facilities including but not limited to Hospitals, Hematological labs, Blood centers and Clinical labs.
Source : Lesoshoppe Sdn Bhd