The 4th Federation of Asian Polymer Societies International Polymer Congress
Held in conjunction with Lab Asia 2015, The 4th Federation of Asian Polymer Societies International Polymer Congress (FAPS PC) will be held from 5 – 8 October 2015 at Kuala Lumpur, Malaysia. Themed "Functional Polymers – Advanced Materials for The Future", the representatives of the members of FAPS from all over Asia will be discussing and sharing insights into the advancement of polymer science and technologies.
FAPS PC is a biennial scientific meeting that gathers the polymer scientists, academia and researchers from around the world to explore the latest trend and innovation in polymer technologies. It was first held in Nagoya, Japan in year 2009, followed by its second edition in Beijing, China and third in Bangalore, India. The Polymer Congress has been receiving overwhelming responses and positive feedback from the industries players over the past 6 years. In year 2015, Malaysia Institute of Chemistry (IKM) is proud to host this international meeting in Kuala Lumpur.
The main highlights of FAPS PC 2015 include:
Synthesis and characterisation of high performance polymers
Biological, biomedical and environment-friendly polymers
Polymeric materials for clean and sustainable energy
Advanced multi-technique of polymer characterization
Polymer composite and polymer nanocomposite
Advances in polymer processing
Smart and intelligent polymers
Natural and synthetic elastomers
Electroactive polymers
Lignocellulosic-based polymers
Polymeric gels and soft matter
Latex chemistry and technology
Polymer Education
About the Federation of Asian Polymer Societies (FAPS)
The Federation of Asian Polymer Societies, is a federation of polymer societies in Asia. Established in year 2007, FAPS currently has 15 members from all over Asia, including the founding members from China, India, Japan and Korea. FAPS aims to contribute to the development of polymer science & technology and to promote the cooperation among polymer organizations & polymer scientists, to explore the future possibilities of polymer technologies.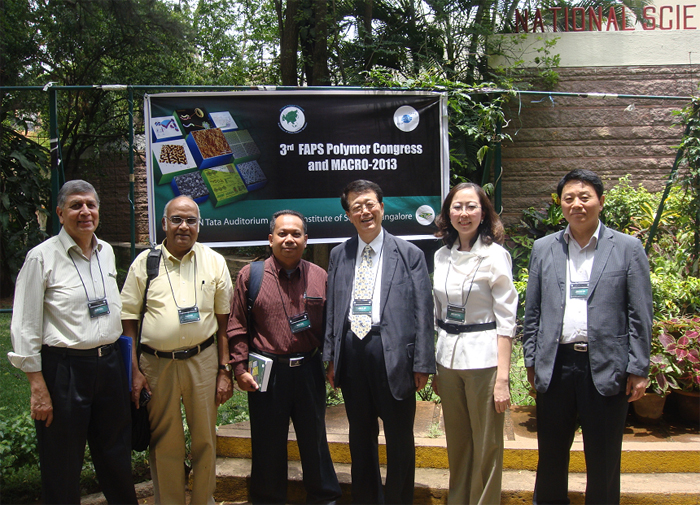 Caption: Photo captured outside of the congress hall before the council meeting. From left to right: Prof. Dr. Ashok Misra (President of Polymer Processing Academy, India), Dr. S. Sivaram (President, Society of Polymer Science, India), Prof. Dr. Rusli Daik (Universiti Kebangsaan Malaysia, Malaysia), Prof. Dr. Jun-Il Jin, Korea (former President of IUPAC), Assoc. Prof. Dr. Chan Chin Han (Universiti Teknologi MARA, Malaysia) and Prof. Dr. Jungahn Kim (Korea)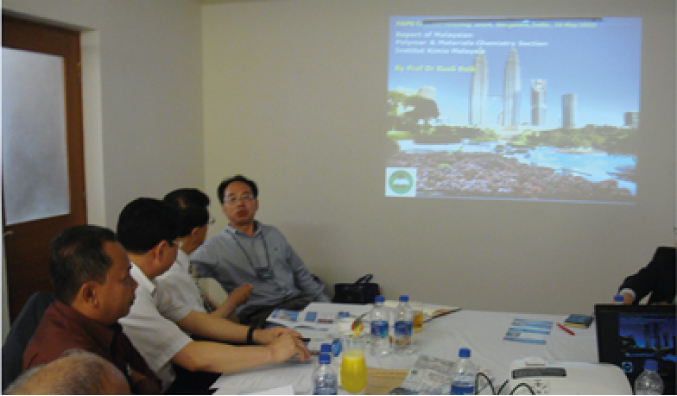 Caption: Prof. Dr. Rusli Daik reported on the preparation and the progress of the 4FAPS-PC in Kuala Lumpur during the council meeting of FAPS
Source from http://4faps-ipc.org.my/